TIMES SINGAPORE, YOGYAKARTA – Executive Chef of Grand Aston Yogyakarta Hotel & Convention Center, Chef Jojo is collaborating with the biggest foods supplier in Yogyakarta, Sukanda Djaya; sharing a whole new view while also designing an analogy of the multipurpose, plant-based meat which is superior in terms of nutritional value and eco-friendliness.
The collaboration product is using Omni-meat as the main ingredient in the plant-based menus, which already earned the halal certification. Chef Jojo has also prepared various designs for the main course made with said plant-based meat, such as Mie Aceh (Aceh Noodles), Meat Gulai, Soto Noodles, various pasta, and burgers.
"It is such an honor for Vanilla Sky Lounge for the opportunity to create the plant-based menu, which will be unique compared to any other restaurants in Yogyakarta," said Chef Jojo, Saturday (12/6/2021).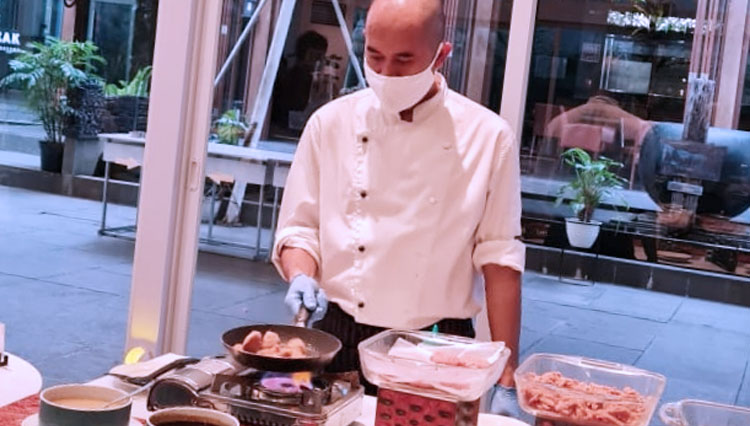 Currently, these menus will be available starting from IDR45,000 net/ ordered menu. Besides, this price is very affordable and reasonable for such a healthy and delicious set of dishes. With a romantic "Vanilla" atmosphere, it is a perfect place to go to enjoy the view of the city of Yogyakarta from the height of the top floor of this hotel.
This plant-based menu is recommended for vegetarian people and everybody else who concerns and supports a healthy diet. Enjoy a new experience of a healthy and delicious meal while also maintaining the food chain on earth for the better. For information and registration, contact Vanilla Sky Lounge Grand Aston Yogyakarta0274-566999 ext. 11. (*)
| | |
| --- | --- |
| Writer | : |
| Editor | : Evan Julianto |