TIMES SINGAPORE, MALANG – It has been more than 2 decades Jatim Park 1 or also known as Jawa Timur Park 1 pampering the locals with nice attractions they have. Jatim Park 1 is one of amusements parks with the same name but different series that quite popular in the country.
This amusement park not only gives their visitors a new experience of fun but also share them some knowledge. There where a lot of thing could be learn from this place. No wonder this place has become the most favorite place for all local students to go to during their school tour.
Let's say all those science, cultural and historical replicas patched or mounted on the wall right after the entrance door. "I came along with my group from Surabaya, it's so fun especially with those educational and play zone," Putri, a visitor of Jatim Park 1 said on Saturday (8/1/2022).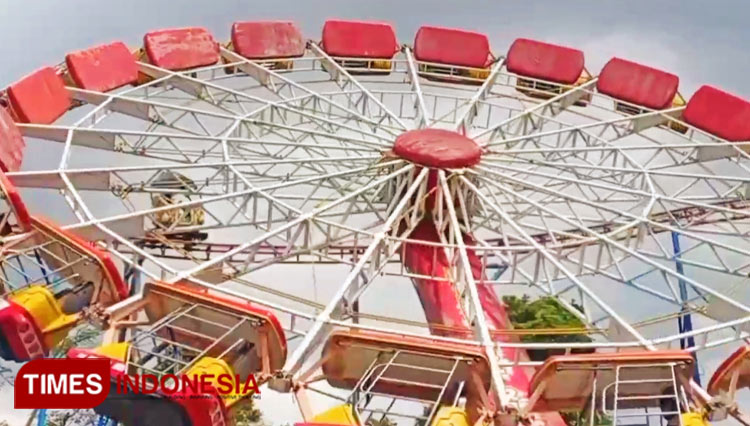 Nice convenient Ferris Wheel at Jatim Park 1 (Photo: Annisa Vera Oktaviani)
Just like what Putri said, this place will also pamper you with lots of attraction you could play. They have Tornado, Gold Spinning, the Air Bike, Bom-Bom Car, Volcano Coaster and more. All you could play with just paying for IDR 85 K on weekdays and IDR 100K on the weekend for the ticket.
Located at Jalan Kartika No. 2, Batu, East Java, this place also have some nice pool for your kids. To add more of your knowledge, you could also visit the gigantic aquarium, which hear said becomes the biggest aquarium in the city. you will find some nice oceanic creature that will mesmerize your eyes.
At the end of your tour, there will be some souvenir shops where you could take some presents for your loved one at home. You could also find some good food at this place if you feel kind of hungry or your belly started to act. So what are you waiting for? Just make sure you bring your kids to Jatim Park 1 during this holiday. (*)
| | |
| --- | --- |
| Writer | : |
| Editor | : Khodijah Siti |