TIMES SINGAPORE, MAROCCO – Here today, from the West to East –such as from Morocco to Merauke – needs to spread the cultures and ethics of tolerance at all levels. Because it will lead to peace and harmony as well as the exchange of interests and prosperities, it is become a common.
Having community behavior that upholds religious tolerance and emphasizes the attitude of hospitality between religions, Morocco and Indonesia have similarities. Moreover, Morocco also has cooperation with Indonesia according to the spirit of strengthening relations between countries that want peace in the world. So, Papua and Morocco have in common a peaceful and tolerant life and have a tradition of resolving conflicts with the local wisdoms.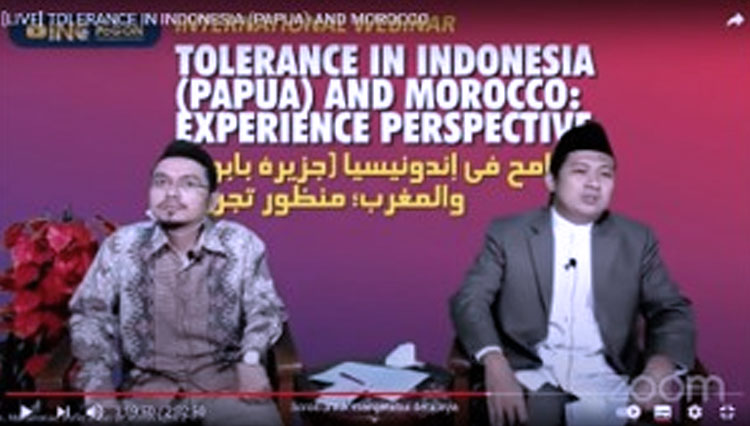 In an online discussion held by INC TV, it was revealed that it is not true that Papua is only filled with conflicts, violences, and backwardness. Factually, Papua is a very peaceful and harmonious place. If only we knew the Papuans more closely, we would get the warmth of a brotherhood that is selfless and what it is. They treat others as family so that they maintain their own dignity, dignity and honor the same as they do for others.
"The fact that the tolerance which has developed in Papua has occurred until this moment is the reason why we are holding this event," explained by the organizing committee of INC TV, M Taufan.
As a religious and top figure in Papua, Prof. Dr. H. Idrus Al Hamid, said that the encounter of religions in Papua so far has given birth to harmony and togetherness as well as fairly good tolerance. By understanding the existence of Papuan people who have different topography, namely coastal communities, swamps, mountain slopes and mountains, the author of the long road to Papua Peace is optimistic about their respective local wisdom, and Papuan people are able to build a tolerant life.
"The existence of religion is actually a part that does not make a difference. In some cases, religious activities are used as joint activities even though they are of different religions." said one of the initiators of the zone for the integrity of religious and cultural harmony in Papua.
Although sometimes there are frictions between indigenous peoples and the metropolis, between natives and nomads, and the politicization of identity, he has pioneered the declaration of a zone for the integrity of religious harmony, building an inter-religious dialogue and strengthening tolerance based on local wisdom."The most important thing is don't hurt if you don't want to be hurt. Understand that humans are the source of civilization," that is his message to all elements of society in Papua.
Another speaker, Dr Muhammad Sofin stated that the Papuan people have always been open intellectually and behaviorally in accepting people who come to their land, just as differences in religion and ethnicity do not prevent them to spread peace with a cheerful face and extend a hand. Cooperation for peaceful coexistence.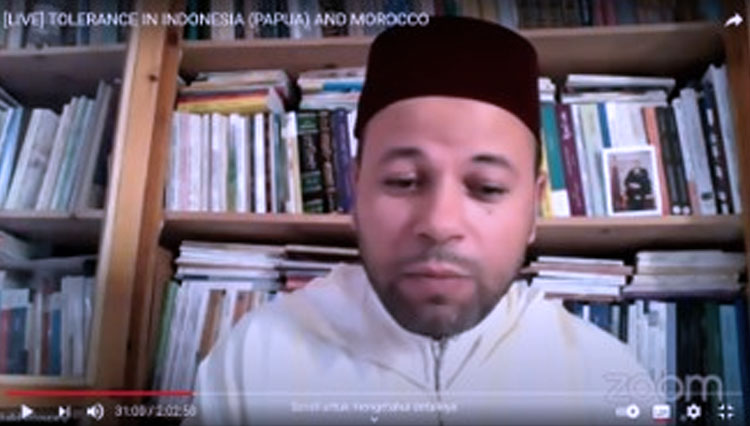 "Papuans do not hide the fact that inter-religious tolerance and cooperation are real: a Christian helps his Muslim brother when preparing for the Eid rituals, and vice versa when Christ's Day comes, and so onalso all adherents of religion, coordinating the good treatment of a pure heart. All of this is the basis and key to creating peace and environmental harmony in order to achieve the success of state development and human resource development in Papua." This point asserted by the assistant professor at UIN Maulana Hasanuddin Banten who had preached in the interior of Papua.
He noticed that, the soul of the Republic of Indonesia is ingrained in the hearts of the Papuan people, as Safar Furuada, an education activist from Kaimana feels.
"The sense of nationality, the spirit of belonging to this country has been imprinted since the beginning because we are part of this country where we traditionally have experienced strong togetherness. Therefore, the arrival of our brothers to Papua actually adds to the spirit of nationhood (wathaniyah) and also helps the spirit of da'wah in Papua by establishing good relations with people of other religions. Therefore, with the Otsus volume II, we hope to increase the passion, the spirit of building in eastern Indonesia, especially development in the religious field. We hope that Papua will become a barometer of tolerance and Indonesia will become a prosperous and prosperous country." Said Sofin, who hopes to build a college campus in Kaimana.
He also said that in general the tolerance relationship in Papua was quite good. Social life between ethnic groups, religions and groups is quite good. If building a mosque there is always a helping hand from people of other religions, especially Christians, that's normal.
"Sometimes they even get offended when they don't invite them to build a building. Because they are one brotherhood as reflected in the slogan -one stove, three stones- which has been ingrained in Papuan society. There is an expression that if you learn tolerance, learn from the Papuan people, because they have practiced real tolerance that is not contained in books."
This experience also happened in Morocco. "Between Indonesia and Morocco, there are common problems, so there must be a strong relationship between each other. help each other and maintain tolerance which is the basis of pluralistic social relations," explained by Prof. Kholid Touzani who had won the Sheikh Al-Mukhtar Al-Kinti Award for Culture and Science, about tolerance in Arabic and African literature.
This event, which was packaged in an International Webinar entitled "Tolerance in Indonesia (Papua) and Morocca: Experience perspective", intended so that the international community did not see Indonesia, especially Papua, as a country full of violencetense and full of conflict. However, it has actually fostered a spirit of unity and harmony among the people, especially the younger generation and instilled values ​​and meaning of religious universalism in human values.
International Webinar was streamed on INC TV Youtube Channel and NU Channel on 28 July 2021. It was presenting several speakers: Prof. Dr. Khalid Touzani (Modern Moroccan Scholar, Author of Interfaith Tolerance, Nobel Laureate Sheikh Sidi al Mukhtar al Kunti For Global Culture, Director of Marocan Center for Cultre Investment, and Member of the Arab League), Prof. Dr. H. idrus Al Hamid, M.Si (Rector and Professor of IAIN Fattahul Muluk Papua, Dr. Muhammad Shofin Sugito (Academic of UIN Maulana Hasanudin Banten), and Dr. Alvian Iqbal Zahasfan as a moderator. (*)
| | |
| --- | --- |
| Writer | : Hanan Zayn |
| Editor | : Munawir Aziz |