TIMES SINGAPORE, SURABAYA – Everything about South Korea seems like magnet for everyone. The drama, music, food and everything. This also inspired a student of Sutabaya University (Ubaya) to create a healthy kimchi which has been adjusted to the local taste.
Matcella Reina, a student of Technobiology major at Ubaya has been fallen in love to things about South Korean. She watched K-drama for almost everyday during her spare time. This what inspired her to create the healthy kimchi.
To make the Kimchi Marcella Reina will need some Chinese cabbage. Rinse it well with clean water and lose last rinse it with drinkable water. Sprinkle some salt throughly on the cabbage from leaf to leaf. Let it sit for 3-4 hours.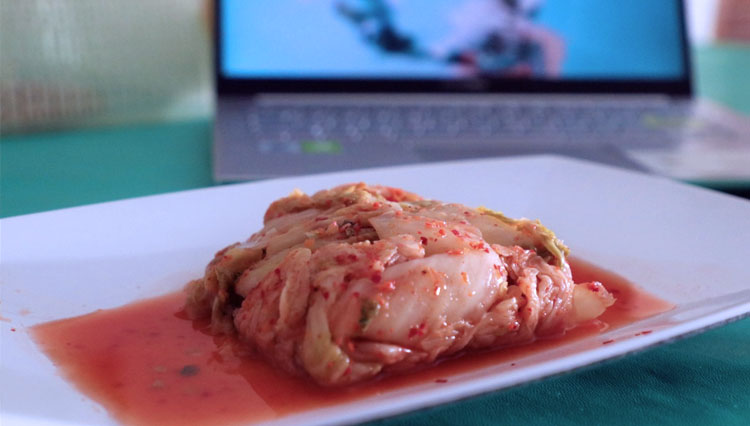 After being sit, the texture will be lot more flexible or withered. Then again, rinse it well with drinkable water. After all done boil the kelp and shotake mushroom till its turn brownie. Set aside and dip them in cornstarch solution.
Add the gochugaru or chili flakes according to how many kimchi you made or how spicy the kimchi you like. For an ultimate taste of South Korean kimchi you could add fish sauce according to your taste. Plus add some garlic and ginger paste.
You could also add shredded carrot, minced leek, diced radish. Mix it well, and your gochujang is ready. Spread the gochujang thoroughly on the cabbage and keep it in a container, seal it well. Let it sit and fermented for 2 days.
Keep the fermented kimchi into your freezer. "If it started to mold or you find a dark spot on it, you better throw it away because it's no longer edible," Marcella of Ubaya explained. (*)
| | |
| --- | --- |
| Writer | : |
| Editor | : Khodijah Siti |