TIMES SINGAPORE, JAKARTA – Novotel Samator Surabaya trying to pamper their guests and customers by bring up the taste of local culinary to their restaurant. This program was so called as The Local Culinary Weeks. With this, your belly will be spoiled with all mouth watering local dishes with exotic taste.
"Mostly people who visit Surabaya will be curious about the taste of local cuisine. And that gave us some idea to bring the local entrepreneurs to our restaurant along with their phenomenal foods," Joanna Kusuma selaku Public Relation Executive Novotel Samator Surabaya.
The Food Exchange Restaurant, where all the dishes will be presented were also designed in certain way possible to keep the customers and guests feel more comfortable during this unprecedented time of pandemic. "We guarantee your safety with the CHSE certification we have," Joanna added.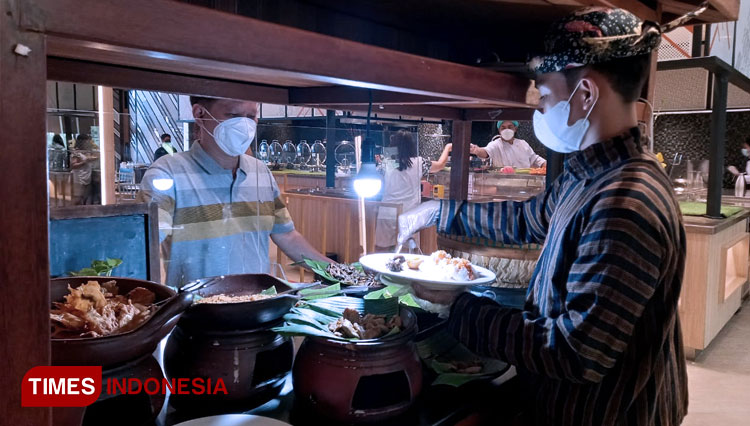 Meanwhile, there will be lots of local dishes with extraordinary taste that will steal your attention. They have some dishes from Depot Anda, Nasi Cumi Pasar Atom ibu Atun, Lontong Balap Asli Pak Gendut and Nasi Krawu Buk Tiban.
The dishes have enchanted the customers and guests and make them want some more. Lots of them gave a positive feedbacks. "Tastes good. I hope there will be more choices on the menu, the more the merrier," Anthoni, a guest at Novotel Samator said.
The local culinary has always become one right thing to have to attract the local customers. Though they live nearby the area, but a nice fancy local dishes such as what they found at Novotel Samator Surabaya will give them another experience in enjoying the local cuisine. (*)
| | |
| --- | --- |
| Writer | : |
| Editor | : Khodijah Siti |