TIMES SINGAPORE, BLITAR – Bubur ayam or congee has abecome one common food Indonesian have for breakfast. This is such a staple food with nice taste especially when you have it during rainy season or when the temperature drops. And if you would like to try of it, you could have Bubur Ayam Tasik of Blitar.
Located right in front of Taman Kebon Rojo or Kebon Rojo Park, Blitar, East Java, Bubur Ayam Tasik is a street vendor with humble facilities. You will be seated in a bench of the park to enjoy the congee. And they will serve you the congee in a styrofoam box.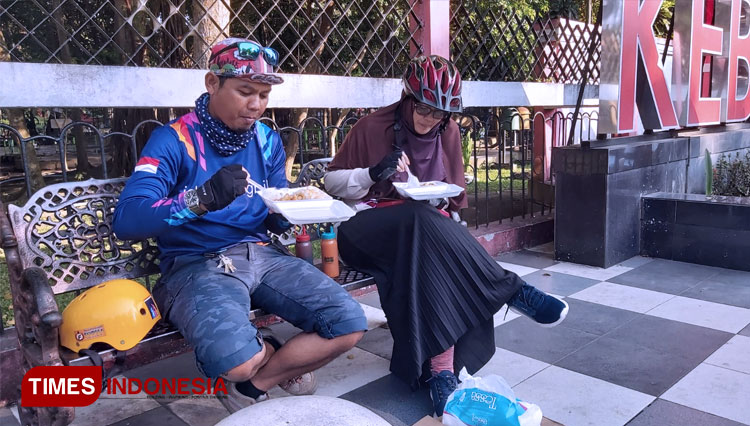 The customers dig on their box and enjoy the congee at Taman Kebon Rojo, Blitar on Thursday (9/9/2021). (PHOTO: Sholeh/ TIMES Indonesia)
This will give you a humble experience of enjoying a set of congee. Other than the taste and a perfect combo made by the condiments, you will also be pampered with the beauty of the park, and enjoy watching some bikers pass by.
What more special about this congee is that Bubur Ayam Tasik doesn't use any broth to make it tastier. The congee itself has been tasteful enough. The condiments such as Chinese crullers, crispy shallot, fried dumpling wrappers, minced celery, soy sauce, ground peppers and chilli sauce make the congee a perfect dish to pamper your growling belly.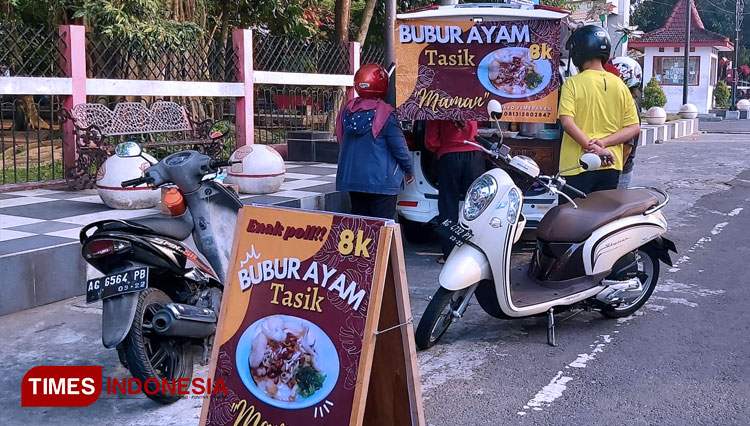 The street vendor of Bubur Yam Tasik you could find in front of Taman Kebon Rojo, Blitar. (PHOTO: Sholeh/ TIMES Indonesia)
"My vendor opens from Monday to Saturday 06.00 t0 09.00 in the morning. I could spend around 30 to 100 pax of congee per day," Mey Meawathie said on Thursday (9/9/2021).
You could have a set of this delicious Bubur Ayam Tasik of Blitar for only IDR 8 K. You could also order the congee from those hailing app such as Go Food or Grab Food. "it's not much but I'm happy to be able to help my husband supports the family," Mey ended. (*)
| | |
| --- | --- |
| Writer | : |
| Editor | : Khodijah Siti |