TIMES SINGAPORE, BATU – Batu, a nice city with a cool climate has been well known with its amusement park and all the attraction it has. And today, we're going to introduce you with the Pasar Apung Nusantara.
Pasar Apung Nusantara is a floated market with modern touch that will give you another experience of shopping. This market is integrated with Transport Museum or Museum Angkut.
You could find it at Jalan Terusan Sultan Agung, Batu, East Java. This market is opened daily from 11.30 to 20.00 local western times. Before, this attraction was closed due to the pandemic.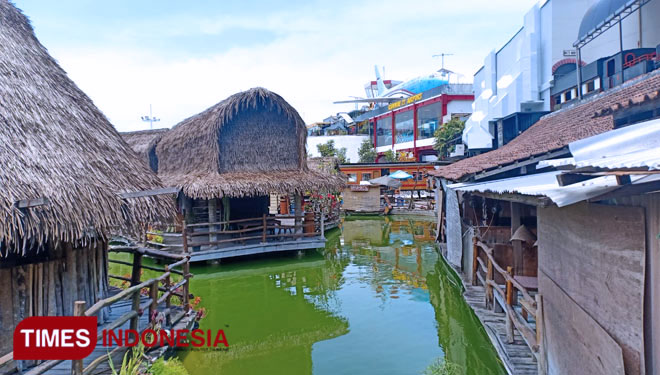 An artificial river where you could do a tour with a canoe. (PHOTO: Annisa Vera Oktaviani/TIMES Indones
This attraction is for free. So you don't need to pay any ticket or spend any amount of money to enjoy the feeling. However, you need to pay IDR 10 K or less than $1 to tour with the canoe. It's definitely bang your buck eh?
In this area, there will be lots food vendors that served an authentic taste of local cuisine. Let's say, Nasi Buk Madura, satay, Serabi Solo, Nasi Uduk, and more. Each of them could be afforded starting for IDR 15 K or just around $1.
"The kids use their time to take some picture for this place offers beautiful spots. And I just watched them while enjoying this massage chair," Ayla, a visitor who came to Pasar Apung Nusantara with her kids.
Meanwhile, Andri one of the crew at Pasar Apung Nusantara Batu said that this place was aimed to educate the visitorswith the local culture. "We would like them to know the Indonesian cultures, from food, to the traditional houses in the country," he said. (*)
| | |
| --- | --- |
| Writer | : |
| Editor | : Khodijah Siti |