TIMES SINGAPORE, JAKARTA – Gresik has something to offer. This time they introduce a new tourist destination that will at least become a nice place to spend your moment with your family especially your kids. This place is so called Wisata Beluron Bengawan Solo.
Located at Baron, Dukun, Gresik, East Java, Wisata Beluron has an exotic iconic attraction in form of a huge statue of dinosaur. What makes it more special is that the dinosaur was made of unused ex flat tire they collected from the local junk shop.
The dinosaur was 7 meter tall. All the part of its body was assembled from the tire. "We try to bring a new attraction to our village to support the local economy. There are also 78 vendors joining to introduce their product to the visitors," Nurul Yati, the Chief of Baron Village said on Friday (3/12/2021).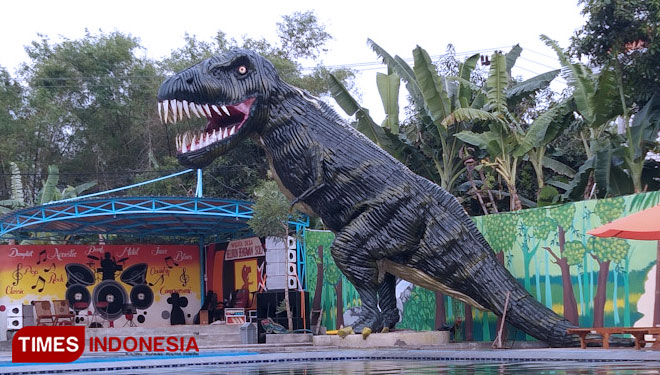 The iconic dinosaur statue made of flat tire of Beluron Bengawan Solo. (Photo: Akmal/TIMES Indonesia)
In addition, you could also play on the fish therapy pool and let the fish tickle your feet. Some public pool for either kids and adults were also provided to pamper the visitors. If you feel like the worm in your belly need to be fed you could visit the cafeteria and bring your food to the shade you could find at Wisata Beluron.
To get in toWisata Beluron Bengawan Solo, you will need to pay fro IDR 15 K for the ticket. It's such an affordable price regarding to the facilities and attraction you could enjoy in it. (*)
| | |
| --- | --- |
| Writer | : |
| Editor | : Khodijah Siti |