TIMES SINGAPORE, BANYUWANGI – For you who would like to take an extreme challenge of consuming extreme food, Warung Umyah Madang of Banyuwangi has an extreme dish for you to try. This place has what so they called as Sop Kepompong or Cocoon Soup.
Located at Jalan Raya Lijen, Desa Paspan, Glagah, Banyuwangi, East Java, Warung Umyah Madang is a foodshop which cook this extreme soup. It's quite challenging for some people for most of people in this world will drop their jaw from shock by seeing the look.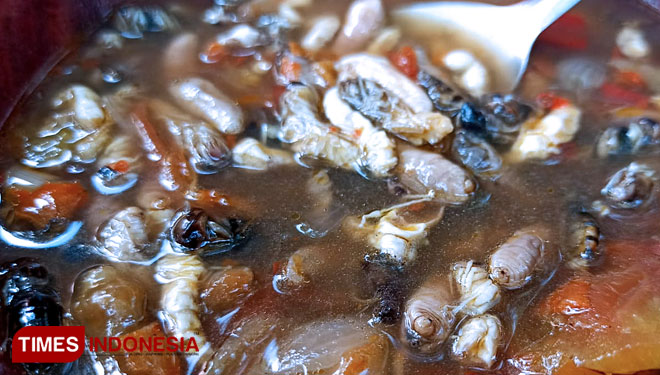 Cocoon Soup, a closer look. (PHOTO: Agung Sedana/TIMES Indonesia)
But the horrifying will Surprise with the taste. Rizal Pahlevi, the owner of the foods hoped process the cocoon and cook it with the local indigenous ingredients that makes the soup tastier and fit to everyone's taste.
This food shop process the cocoons in to several type of dishes. They have pepes tawon, tawon asam manis, sup tawon and many more. Each dish will give different taste yet still with the cocoons as the main stars.
"It tastes like shrimp for me. I personally like Sambal Kemangi Tawon Ndas (spicy cocoon with bassils). Just prepare to be sweating for the spicy taste," Ahmad Jaini, a local customer said on Wednesday (13/10/2021).
For a set of Sop Kepompong or Cocoon Soup of Banyuwangiyou could take it for IDR 25 K. Warung Umyah Madang opens daily from 09.00 to 22.00 local western times. What do you think? Will you make it a real deal?. (*)

| | |
| --- | --- |
| Writer | : |
| Editor | : Khodijah Siti |