TIMES SINGAPORE, JAKARTA – Visiting an orange orchard will be a nice thing to do during this pandemic. For there will be not much people gather in one huge orchard. Just like this orange orchard at Cidolog, Ciamis, West Java. This orchard will pamper you with the sweetest local orange you ever taste.
The orchard was laid on 400 meter square area. The local tangerine was planted on the orchard. They usually called it as Ladur orange. During its harvesting time, this orchard could produce tons of sweet orange that you could enjoy right on the spot.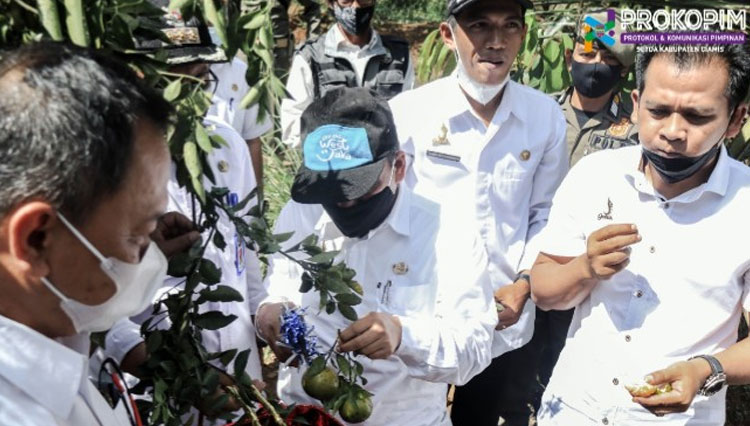 The local officials visiting an orange orchard at Cidolog, Ciamis, West Java. (Photo: The PR of Ciamis)
You could also bring it home if you like. You just need to pay for IDR 15 K/kg if you would like to brig it home. Meanwhile for those you eat on the spot you will not need to pay any of it, because it has been accumulated on your admission fee.
"We welcome anyone, just come to this place and taste the sweetness of our orange on the spot. And if you would like to bring it home, its quite approachable in price," Soleh, the owner of the orchard said on Wednesday (14/7/2021).

Ladur orange. (Photo: Hthe PR of Ciamis)
For this season, there has been lots of people coming to this orchard to have the exotic experience of picking the tangerine and taste it on the spot. Sholeh said that has spend around 8 tons of tangerine during this harvesr season.
"It's sweet, juicy, and the atmosphere is so nice that make us feel like doesn't want to leave this place," Saidah, a local visitor who came to this orange orchard of Ciamis with her family said. (*)
| | |
| --- | --- |
| Writer | : |
| Editor | : Khodijah Siti |